View All News
Lexington Medical Center invests $150,000 in United Way of the Midlands' WellPartners Dental and Eye Clinics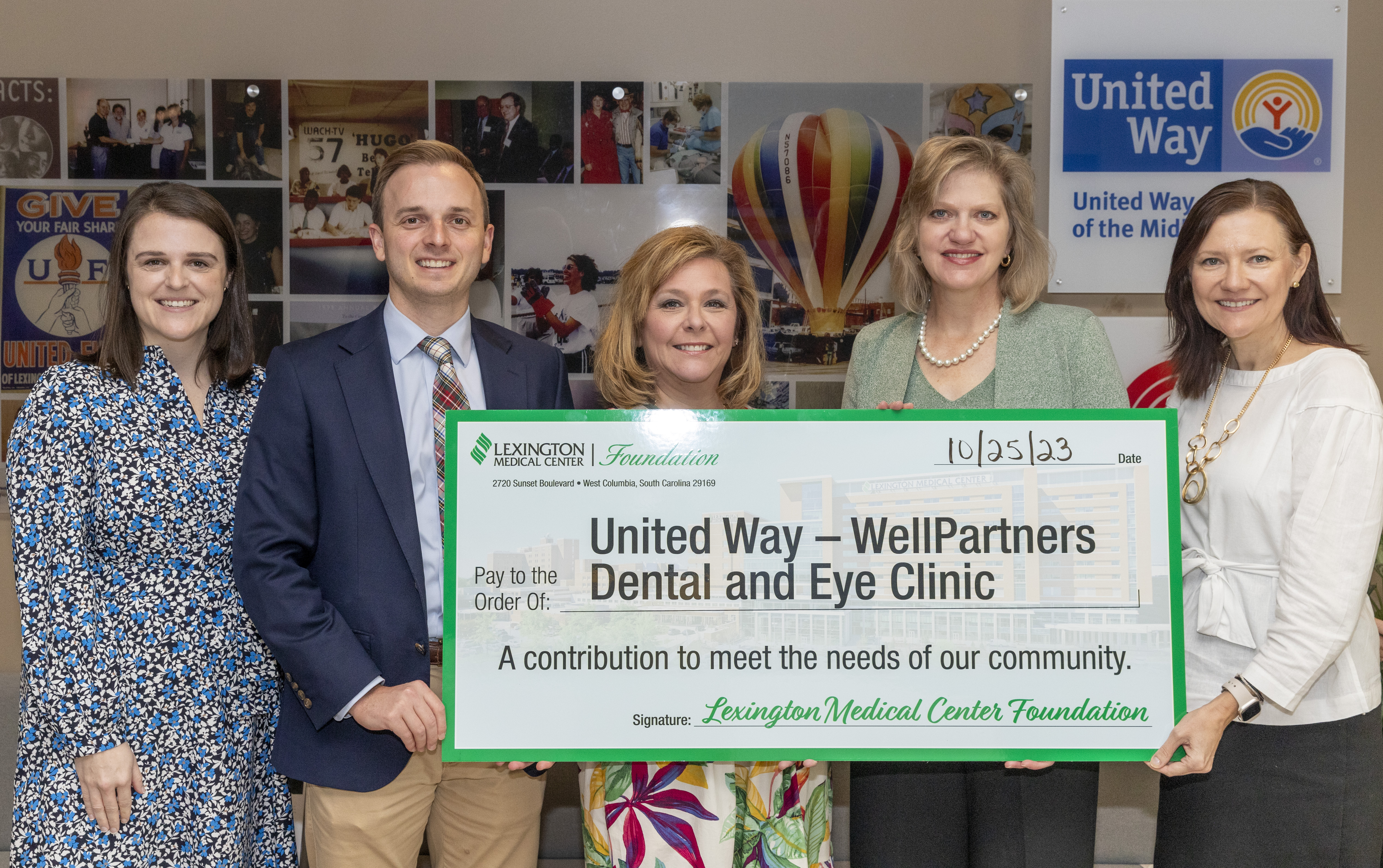 Thanks to a $150,000 grant from Lexington Medical Center, more individuals throughout the Midlands will receive accessible healthcare at United Way's WellPartners Dental and Eye Clinics.
WellPartners offers free dental and eye care services that provide preventative and restorative care to uninsured and underinsured children and adults in the Midlands. WellPartners is owned and operated by United Way of the Midlands with additional support from community partners, including Lexington County, Lexington Medical Center, Prisma Health and Richland County.
"Lexington Medical Center is happy to provide financial support to WellPartners to address community health care needs, advance the core mission of our hospital, and bridge the health care gaps within our service area," said Thomas Tafel, Community Outreach Manager at Lexington Medical Center.

Giving criteria for Lexington Medical Center prioritizes organizations serving the local community's health needs, increasing access to health care services for underserved populations, improving education about and prevention of health problems resulting from social and environmental issues, demonstrating collaboration with existing health care initiatives, improving access to health care and support services for vulnerable and at-risk populations, and improving the capacity of safety net services and providers.
"WellPartners plays an essential role in delivering vital dental and eye care to those who lack access," said Sara Fawcett, President and CEO of United Way of the Midlands. "Because of partners like Lexington Medical Center, we can continue to provide these services for years to come." 
 
In the 2022-2023 fiscal year, WellPartners Dental Clinics conducted 2,629 adult patient visits and 760 child patient visits, providing a total value of over $1.6 million in in-kind dental treatments to uninsured and underinsured patients. WellPartners' Eye Clinic conducted 2,453 adult eye care visits, which included 964 comprehensive eye exams, 1256 optical encounters and 233 emergency and office visits. WellPartners also received a gold rating from the National Association of Free and Charitable Quality Standards Program for the fourth consecutive year.
Watch this video to see how WellPartners is bringing smiles back to the Midlands.  
###
About Lexington Medical Center
Lexington Medical Center is a 557-bed hospital in West Columbia, South Carolina. It anchors a health care network that includes five community medical centers and employs a staff of more than 7,800 health care professionals. The hospital was ranked best hospital in the Columbia Metro and #2 hospital in South Carolina by U.S. News & World Report and was named one of the "Best Places to Work in South Carolina" by SC Biz News, in partnership with the South Carolina Chamber of Commerce and Best Companies Group. Lexington Medical Cancer Center is an accredited Cancer Center of Excellence and has a clinical research and education affiliation with MUSC Hollings Cancer Center. The network includes a cardiovascular program recognized by the American College of Cardiology as South Carolina's first HeartCARE Center. The network also has an occupational health center, the largest skilled nursing facility in the Carolinas, an Alzheimer's care center and 70 physician practices. Lexington Medical Center operates one of the busiest Emergency departments in South Carolina, treating nearly 100,000 patients each year. The hospital delivers more than 4,000 babies each year and performs more than 25,000 surgeries.
View All News