View All News
Prepare & Protect Yourself from Natural Disasters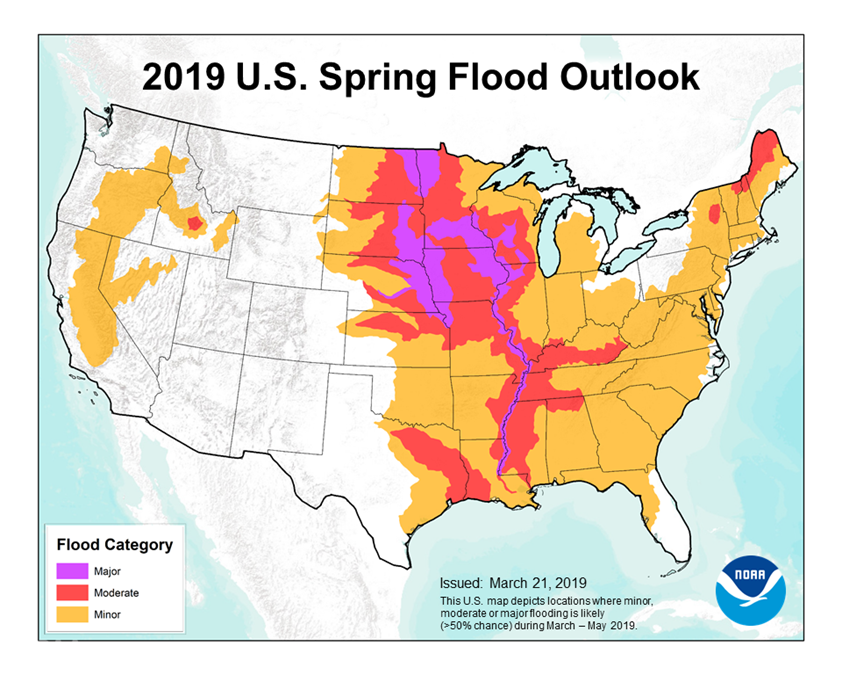 According to the National Oceanic and Atmospheric Administration, more than 200 million Americans are at risk of some flooding in 2019. Additional spring rain and melting snow will prolong and expand flooding, especially in the central and southern states.
WHAT DOES THIS ALL MEAN?
Flood risk are not limited to coastal areas. Nearly half of the United States is at risk of major or moderate flood risk through May. Many of these areas are not high-risk flood zones, so many of those who are at risk won't likely have financial protection (i.e., flood insurance). Remember that FEMA estimates that one inch of water in an average sized home can cause upwards of $25,000 worth of damage – something most low-to-middle class families can't afford. That's roughly the equivalent of the average student loan debt.
PREPARE & PROTECT YOURSELF IN THE FACE OF NATURAL DISASTER
The 2015 floods were an eye-opening experience and most were not prepared for such devastation. Two of the biggest challenges many of our Midlands neighbors have faced to rebuilding and returning home after the 2015 flooding: no insurance coverage for flood damages and losing precious repair funds to contractor fraud.
Our friends at SBP, a nonprofit recovery organization, produced short interactive trainings to help Columbia shrink the time between disaster and recovery. Watch below!
Do you need flood insurance? There are many myths and misconceptions about flood risk and flood insurance but our materials bust these. Did you know that over 80% of the homes flooded by Hurricane Harvey were not in a mandatory flood insurance zone? Or that federal disaster assistance only covers a small fraction of damages compared to flood insurance?  Watch this short video to see if you need flood insurance to prepare and protect yourself.

Avoid common pitfalls and maximize resources for recovery after disaster. Contractor fraud is prevalent after disasters when vulnerable families are taken advantage of by contractors who conduct incorrect, incomplete, low quality, or overpriced repairs. Contractor fraud is a secondary disaster that robs survivors of precious, irreplaceable resources before recovery can even begin.  Watch this short video to learn how to identify and prevent contractor fraud.
disaster preparedness at home
SBP has created a resource guide for you to create your own disaster preparedness plan in case you are in the face of a natural disaster. Create your plan.
View All News