View All Events
Transforming the Midlands Through Leadership
Thursday, November 30, 2023 | 5:30 - 7:30 PM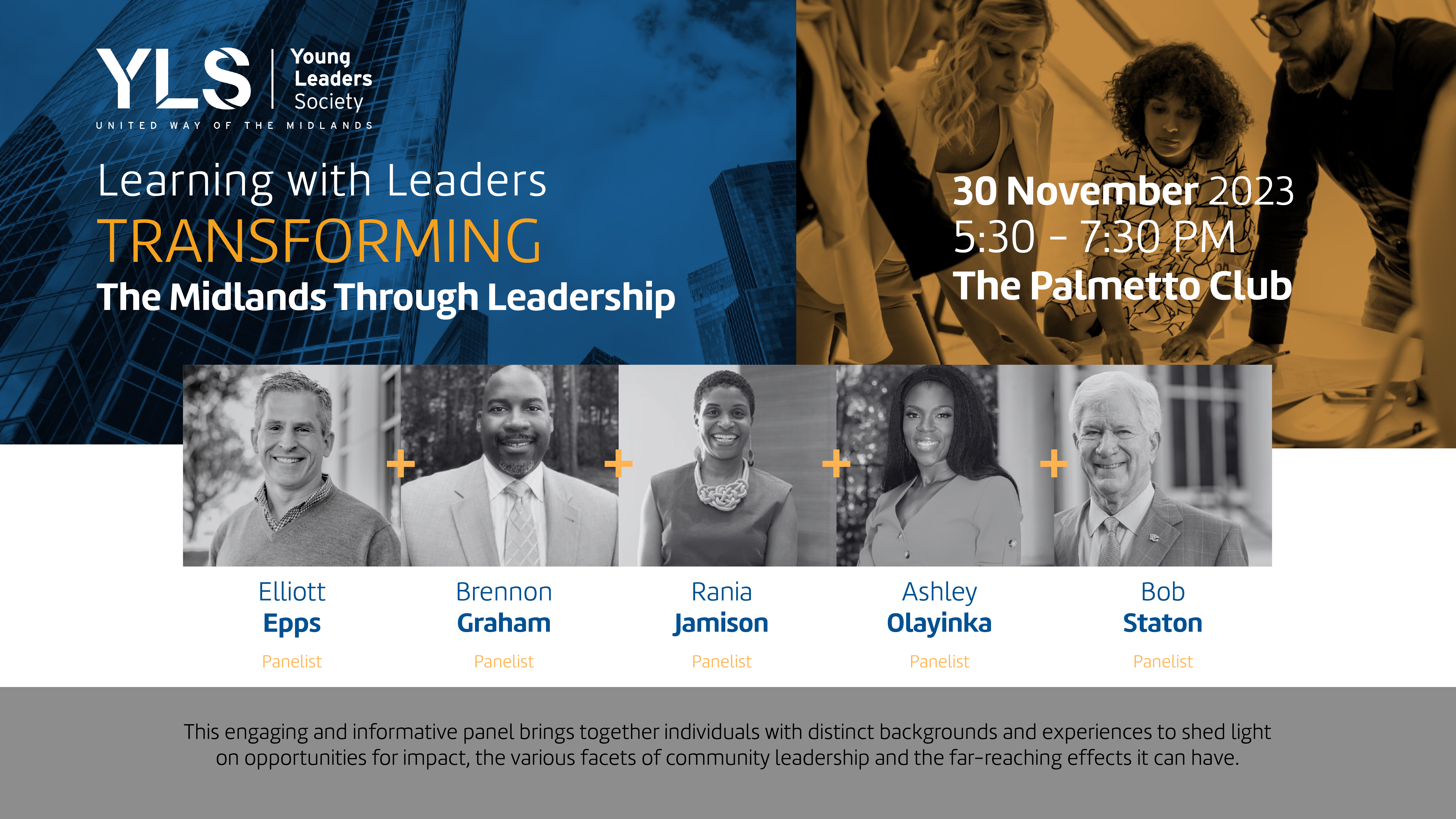 Our panel discussion, "Transforming the Midlands Through Leadership," is a platform for exploring the multifaceted nature of leadership within the context of community development and the transformative power it holds. This engaging and informative panel brings together individuals with distinct backgrounds and experiences to shed light on opportunities for impact, the various facets of community leadership and the far-reaching effects it can have.
Join us on November 30, 2023, from 5:30-7:30 p.m. at The Palmetto Club. Hors d'oeurves and beverages included. 

This panel will be moderated by Ben Bullock, Vice President and COO of TogetherSC. Panelists include Elliott Epps, Brennon Graham, Rania Jamison, Ashley Olayinka, and Bob Staton. 
Key Themes:
Collaborative Approaches: Community impact often relies on collaboration. Panelists will discuss the significance of partnerships, both within the community and with external stakeholders, and how such collaborations can magnify the results of community leadership efforts.
Innovative Solutions: As the world evolves, so do the challenges faced by communities. The panel will explore how innovative and adaptive leadership approaches can address contemporary issues and drive positive change in a rapidly changing world.
Youth and Next-Generation Leadership: Recognizing the crucial role of youth in shaping the future, our panel will also focus on how young leaders are stepping up, driving change, and influencing community impact.
Overcoming Challenges: Leadership is not without its hurdles. The panelists will share their personal stories of overcoming challenges and setbacks, offering inspiration and practical insights for those aspiring to lead community transformation.
Inclusive Leadership: We will delve into the importance of inclusive leadership, addressing how diversity and representation at the leadership level contribute to more equitable and effective community outcomes. Our panelists will share their experiences in fostering inclusive environments within their respective communities.
Our panel discussion is a platform for dialogue and learning, providing a 360-degree view of community leadership and impact. It aims to inspire, educate, and encourage individuals from all walks of life to engage in community leadership and contribute to the betterment of society. Join us for an insightful and thought-provoking conversation that can spark new ideas and initiatives within your own community. Together, we can explore the transformative potential of community leadership from a multitude of perspectives. 

Sponsorship provided by Angel Donor in Loving Memory of Barbara Willm, an advocate for the underserved.

View All Events