View All News
AgFirst Farm Credit Bank Receives United Way of the Midlands' Spirit of the Midlands Award for Corporate Leadership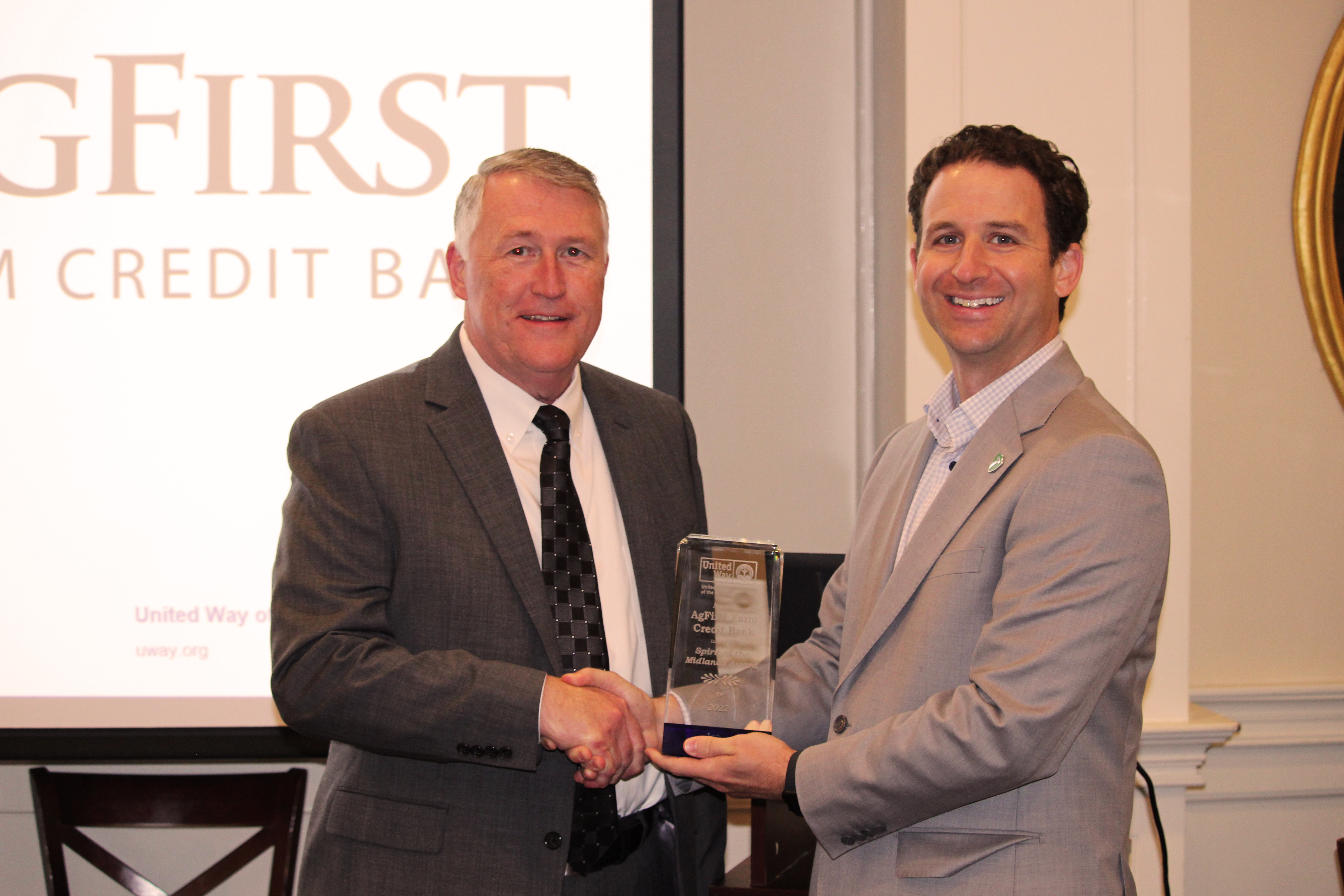 AgFirst Farm Credit Bank was selected to receive the Spirit of the Midlands Award for Corporate Leadership by United Way of the Midlands.
The Spirit of the Midlands Award for Corporate Leadership is presented to a partner that embodies an overall spirit of giving through contributions of time, leadership, and resources in support of United Way's work in priority issues of financial stability, health access and education.
"AgFirst's unwavering dedication to the Midlands community shines brightly through our deep-rooted partnership with the United Way and its esteemed network of organizations," said Tim Amerson, President and CEO of AgFirst. "We proudly uphold this commitment, driven by our employees' wholehearted embrace of our company culture, and it is this collective effort that continues to transform lives, making a meaningful difference in the Midlands for good."
AgFirst encourages its employees to dedicate time to volunteering by allocating eight hours of paid time off each year for volunteer work.
"AgFirst's commitment to the community shines through its impactful volunteer efforts. From packing food boxes at Harvest Hope alongside the Bank's CEO to partnering with FoodShare for food box packing, AgFirst employees demonstrate their dedication to addressing food insecurity," said Trevor Knox, Spirit of the Midlands Committee Chair. "Additionally, their involvement with Home Works to rebuild a back deck and steps, volunteering at the Salvation Army Christmas Warehouse, and serving lunch monthly at Transitions showcases their unwavering commitment to making a positive difference in the lives of those they serve."
AgFirst's commitment to community extends beyond traditional volunteer work as their employees actively contribute their time and expertise to serve on various United Way boards. With individuals like Audit Manager Shannon Eichelberger on the United Way Board of Directors, Marketing Strategist Heather Jensen Garner on the United Way Communications Committee, Controller Matt Miller on the United Way Finance Committee, Laura Kauffman as Chair for the Business Division of the United Way Campaign Committee, and Kaih Taylor serving on the Women in Philanthropy Engagement Committee, AgFirst's volunteers bring their diverse skills and perspectives to support UWM's mission.
AgFirst contributed $118,081 in employee giving, $50,000 in corporate donations, $999 from the special event, and $10,000 to United Way's annual Gold sponsorship, totaling $179,079 donated to United Way in the past year.
"AgFirst's partnership has been a beacon of hope and a catalyst for positive change in the Midlands," said Sara Fawcett, President and CEO of United Way of the Midlands. "AgFirst's generosity and dedication have empowered us to serve our community, uplift lives, and create lasting impact. Together, we are making a tangible difference, and we extend our thanks to AgFirst for their contributions to our shared vision of a thriving Midlands."
This is the third year that AgFirst Farm Credit Bank has received the Spirit of the Midlands Award for Corporate Leadership for its outstanding local community support efforts.
To learn more, visit www.uway.org.
View All News