View All News
AT&T contributes $40,000 to United Way's 'Young Men United' to enhance digital access for students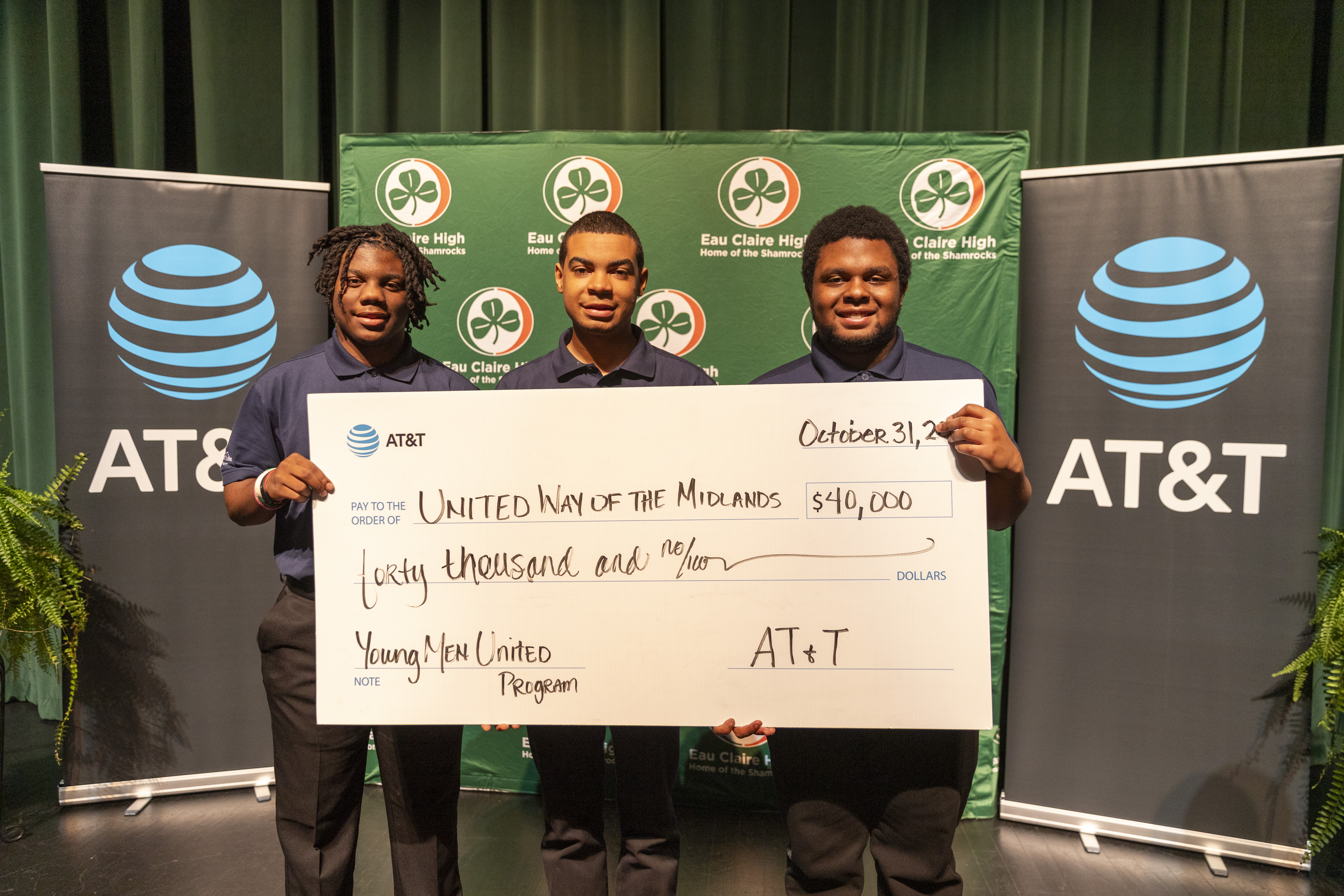 In an era where digital connectivity has become a lifeline to education, work, and essential services, AT&T is breaking down barriers to education and fostering digital empowerment by contributing $40,000 to the United Way of the Midlands' Young Men United program.

The $40,000 contribution from AT&T will be directed toward purchasing laptops and providing essential virus software, helping ensure that students have the necessary tools for their digital education. Additionally, the funding will support hands-on training sessions to equip students with the skills needed to navigate the digital landscape effectively.
"With this technological support, the students will have enhanced opportunities for digital learning, research, and skill development," said Jabari Bodrick, Ph.D. of United Way of the Midlands. "It will aid in bridging the digital divide and create an avenue for our students to excel academically."
This contribution aligns with AT&T's commitment to helping close the digital divide by expanding broadband access, adoption, and equity, as well as effective digital learning experiences and outcomes for students. Continuing its efforts to help connect more South Carolinians, AT&T is expanding its fiber network to serve more than 700 new customer locations in the Eau Claire community, in addition to the more than 6,000 customer locations that currently have access to AT&T Fiber.
"At AT&T, we are committed to connecting more South Carolinians to greater possibility, and we are proud to support the United Way of the Midlands' Young Men United program," said Terrance Ford, Vice President of External Affairs for AT&T South Carolina. "Together, with the United Way of the Midlands, we are helping connect South Carolina youth with the resources and tools they need to succeed in the classroom and beyond." 
This collaboration represents a significant step toward creating a more equitable educational landscape, ensuring that all students, regardless of their background, have access to the tools and resources they need to succeed in a digital world.
Earlier this year, United Way of the Midlands announced its pilot program Young Men United. This new workforce development initiative in partnership with Colonial Life targets young men of color with mentorship, paid internships and professional engagement to help these men reach their education and career goals.
YMU is modeled after the MKE Fellows Institute in Milwaukee, which began in 2012 as a college enrollment and internship program but has grown to a continuum of services to advance young men. Young Men United will offer this continuum with individualized student support through case management coaches to ensure the young men stay on track.
To learn more about YMU or to sign up to become a mentor, visit uway.org/ymu or contact Dr. Bodrick at jbodrick@uway.org. 

###
About Philanthropy & Social Innovation at AT&T
We're committed to advancing education, creating opportunities, strengthening communities, and improving lives. As part of our companywide commitment to address the digital divide, we launched AT&T Connected Learning to invest in connectivity and technology, digital literacy, and education solutions to help today's learners succeed inside and outside of the classroom. Since 2008 we've committed to programs that help millions of students across all 50 states and around the world, particularly those in underserved communities.
 
View All News