View All News
AT&T donates $25,000 to support United Way of the Midlands Reading Consortium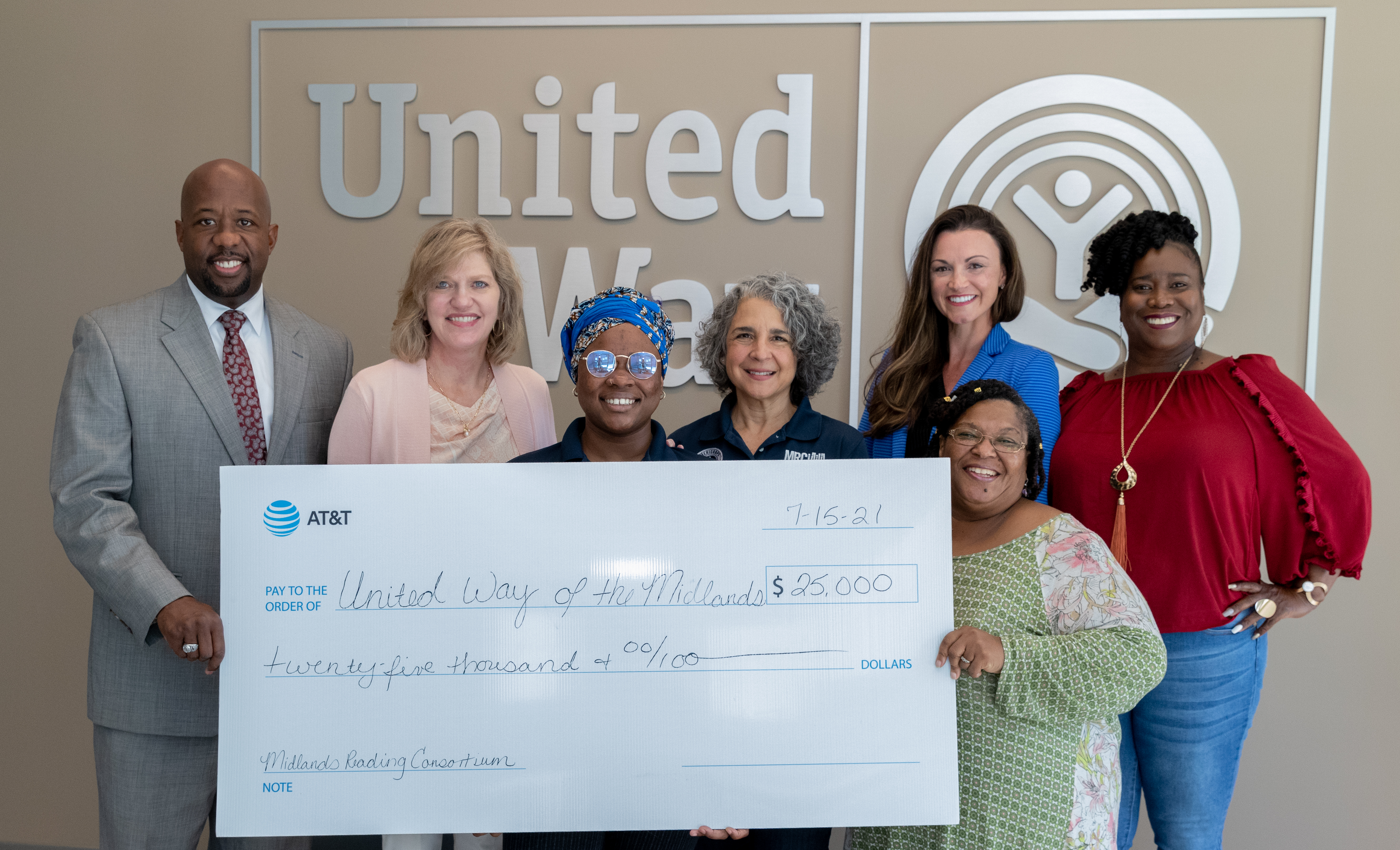 Columbia, S.C. (July 26, 2021) – AT&T donated $25,000 to United Way's Midlands Reading Consortium (MRC), which is a literacy focused program that supplements and enhances shared reading experiences to ignite a love of reading for elementary students.  
MRC offers a library of services including virtual and in person one-to-one tutoring, classroom read alouds, guest reading opportunities, parenting engagement events and building at home libraries. MRC's one-to-one tutoring program assists in bringing pre-K – 3rd grade students up to grade level, which impacts their ability to be successful in school. MRC started in 2007 with two schools and has grown to serve 27 schools in school districts across Richland, Lexington, Newberry, Fairfield and Orangeburg counties.  
"At AT&T, we believe education is key to unlocking a future of fulfilled dreams and personal achievement," said Terrance Ford, Director of External Affairs for AT&T South Carolina. "Reading is a foundational skill, impacting success in the classroom and throughout life. We are pleased to support the Midlands Reading Consortium and excited about its potential for helping young students make up ground lost during the pandemic and prepare to excel in their future studies." 
United Way believes a strong foundation of reading greatly impacts a child's success in school and beyond. The pandemic brought additional barriers for students to overcome in order to achieve success, which MRC addressed through technological implementations, family engagement events, the Pen Pal initiative and book distributions.  
In the 2020-2021 school year, MRC provided virtual options of one-to-one tutoring sessions, weekly classroom reading and guest reading initiatives, which allowed the program to reach a record 1,980 students. These virtual tutoring options will remain available during the 2021-2022 school year. 
"When companies like AT&T contribute to MRC, it creates a rippling effect," said Sara Fawcett, President and CEO of United Way of the Midlands. "Our MRC team can create impactful programs that will positively impact young minds, and the program gains 500 volunteers who believe in this work and are committed to the educational success of students within our community."  
Those interested in volunteering with MRC can sign-up at volunteer.uway.org/mrc.  
To learn more about MRC, visit https://www.uway.org/mrc. 
                                                                      ### 
About United Way of the Midlands 
United Way of the Midlands is the most collaborative, efficient and accountable model for investing in the improvement of the Midlands community. With more than 65 Community Impact Partners, United Way works to identify and respond to the critical human service needs of Calhoun, Fairfield, Lexington, Newberry, Orangeburg and Richland counties. Funds are raised through workplace campaigns, grant writing and individual donations and are directed to fight for causes including childhood literacy, economic mobility and dental and eye care for those without resources. For more information, please visit uway.org.
View All News