View All News
BlueCross BlueShield of South Carolina, Publix take home top honors at United Way of the Midlands' Live United Awards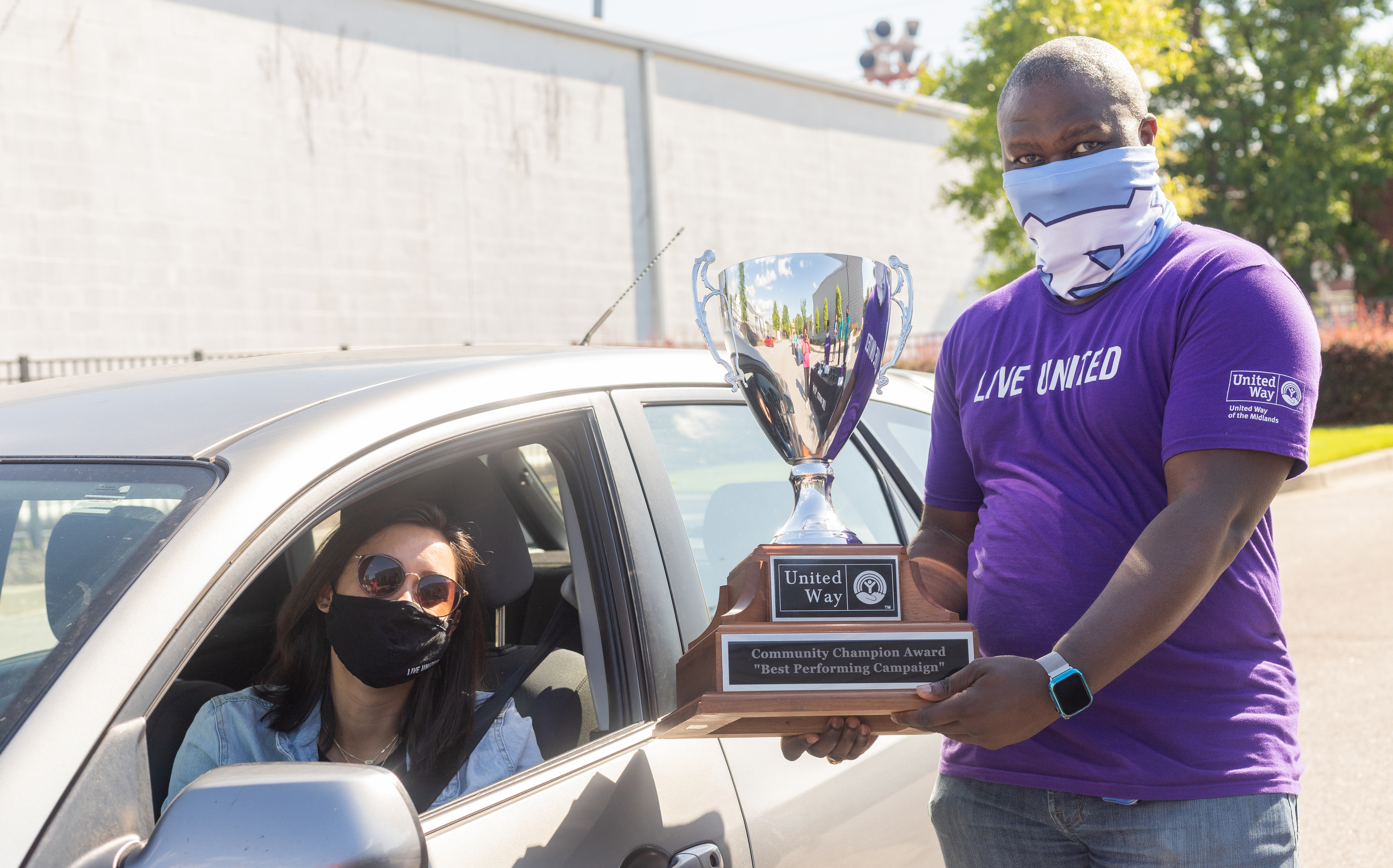 Columbia, S.C. (May 10, 2021) – United Way of the Midlands hosted a drive-through awards presentation and virtual ceremony on May 6 recognizing Midlands' organizations and individuals that helped United Way raise $8.1 million.
Midlands corporations and agencies were honored for their successful 2020-2021 United Way of the Midlands employee fundraising campaigns. United Way's Live United Awards are given based on the level of employee and corporate participation in the annual campaign for contributions and volunteerism. The virtual ceremony was led by United Way's Campaign Co-Chairs, Dr. Roslyn Artis, Benedict College President, and Kevin Lindler, First Citizens Bank Senior Vice President.
"Roslyn and Kevin, thank you so much for your campaign leadership over the last two years," said Sara Fawcett, President and CEO of United Way of the Midlands. "You really have stepped up and ensured that this community had resources available to meet the direct assistance needs that we've had during this time of crisis, but also to have the resources available to meet the on-going needs that our community had pre-pandemic. Thank you both so much for your time, your passion, your energy that you've devoted to United Way and the community. You have been terrific campaign co-chairs."
United Way recognized BlueCross BlueShield of South Carolina, who had a record year raising $2.5 million, as the Community Champion for Most Dollars Raised.
"BlueCross is involved with United Way because of the connection it has with the community and how many lives it touches through the Reading Consortium, Transitions—all the different avenues," said Dawn Carnell, Project Administrator at BlueCross.
Publix was honored with the Community Champion Award for Best Overall Performance raising more than $645,000.
"The impact that we have and that we make on an annual basis couldn't happen without the 7,000 plus leadership givers that contribute millions of dollars every year to the United Way," said Mike Skehan, Publix Store Manager.
Elliott Davis, Recruiting Solutions, First Community Bank, AFLAC, International Paper, Salvation Army of the Midlands, South Carolina Department of Motor Vehicles, Absolute Total Care, University of South Carolina, Columbia Housing Authority, SC Power Team and Nelson Mullins were recognized with the Division Chairman Awards for making the most impact on the outcome of their division's campaign for the 2020-2021 fundraising season.
"I want to extend a special thank you to everyone that put out their hand to lift a neighbor, who gave a little bit more this year, who put on a mask rolled up their sleeves and volunteered," said Fawcett. "You are United Way. You are the way that we meet the needs of this community together."
The funds raised through the annual campaign allow United Way to award grants to community impact partners, as well as invest in services and programs to meet the most pressing needs in the areas of health, education and financial stability. Community volunteers in three councils focused on Education, Economic Mobility and Health develop and review a community-wide needs assessment to determine key issues in the community. Based on priorities, opportunities and resources, the councils offer competitive grants to United Way's local Community Impact Partners who best address these needs.
To learn more about United Way of the Midlands, visit www.uway.org.
###
About United Way of the Midlands
United Way of the Midlands is the most collaborative, efficient and accountable model for investing in the improvement of the Midlands community. With nearly 70Community Impact Partners, United Way works to identify and respond to the critical human service needs of Calhoun, Fairfield, Lexington, Newberry, Orangeburg and Richland counties. Funds are raised through workplace campaigns, grant writing and individual donations and are directed to fight for causes including childhood literacy, economic mobility and dental and eye care for those without resources. For more information, please visitwww.uway.org.
View All News