View All Stories
Always United Members humbled through serving seniors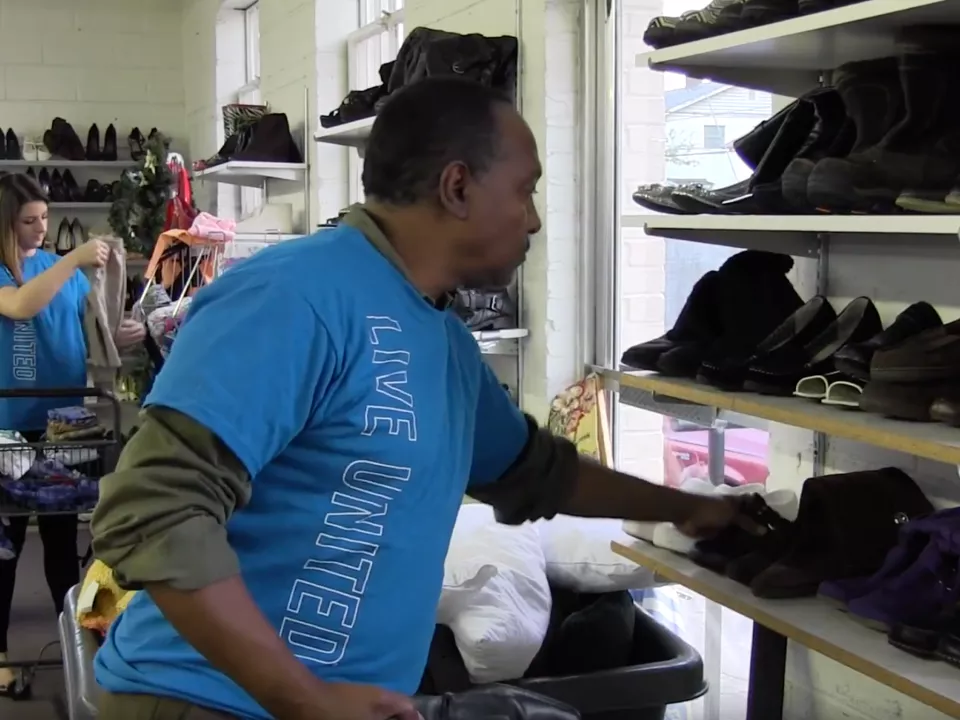 It's interesting to see how much a person's perspective of an organization can change when they step out of the boardroom and into the field of nonprofit work.
When Paul Fant started interacting with United Way through hands-on activities instead of a leadership position, he realized he was missing so much of our story.
It took only one day of volunteering during our annual Volunteer Week for Paul to see the other side of United Way's story. His volunteer service gave him a behind-the-scenes look at the vast amount of resources it takes, the importance of United Way's position as a convener between our local nonprofits and the various challenges we face each day to make a positive impact in our community.
Paul is not new to United Way of the Midlands. In fact, he has been highly engaged with our mission for nearly 20 years. Paul has been a long-time supporter and an Alexis de Tocqueville donor for over a decade and has dedicated thousands of hours in leadership-level volunteer positions, including Chairman of the Board of Directors, a member of the Campaign Committee and the Certification Committee. Paul was also named as our 2015 Humanitarian of the Year, the most prestigious award given by United Way of the Midlands.
"It's humbling to see the condition of humanity and how just a meal makes a huge difference," Paul said. "The residents are always smiling, ready to have a conversation… it's very rewarding."
It wasn't until he retired that he became involved with United Way in a different way – hands-on volunteering through Always United, a new affinity group geared toward retirees or those near retirement to give them meaningful opportunities to continue their relationship with United Way even after they have left the workplace.
"So far this week, I have delivered eight meals to eight different people, and when I knock on the door and have the opportunity to interface with these people who are in need, are poor, who just need help with the basic things," Paul said.
In honor of National Volunteer Week, we host a United Way Volunteer Week in the Midlands to encourage the community to pay it forward. Always United members decided to help our partner, Senior Resources, Inc., and its Meals on Wheels program that delivers hot, nutritious meals to seniors who would otherwise face hunger.
WHY WE FIGHT FOR OUR SENIORS? Look at the numbers.
In just a year, Senior Resources' Meals on Wheels program has seen an increase in need. An increase was realized due to the increase in the number of client in need of meal delivery services and the number of meals provided. 
102,015 hot meals and 58,461 frozen meals delivered (30% increase in meals over FY17)
1,015 home-bound seniors and disabled adults served (23% increase in clients over FY17)
3,251 shelf-stable meals provided for emergency response
20,289 hours given and 54,369 miles driven by volunteers (equivalent of $181,000 in service)
United Way of the Midlands is dedicated to the fight against hunger and food insecurity for our community's seniors without the resources to provide healthy, nutritious meals for themselves. We will continue to fight to provide resources for everyone to live a healthy lifestyle, including helping seniors to live independently in their homes for as long as possible.
Senior meal deliveries are not an occasional service. Providing meals for seniors is a 365-day necessity to keep them healthy, keep them in their homes and provide social interactions many do not experience from family or friends. Volunteers are critical to this mission. Visit volunteer.uway.org to find volunteer opportunities to fight against hunger and food insecurity of seniors in our community. It's thanks to the generosity of partners like Wells Fargo that allow us to continue our fight against hunger and food insecurity.
View All Stories