View All Stories
Hannah and Ron Rogers honored as AFP's 2021 Outstanding Philanthropists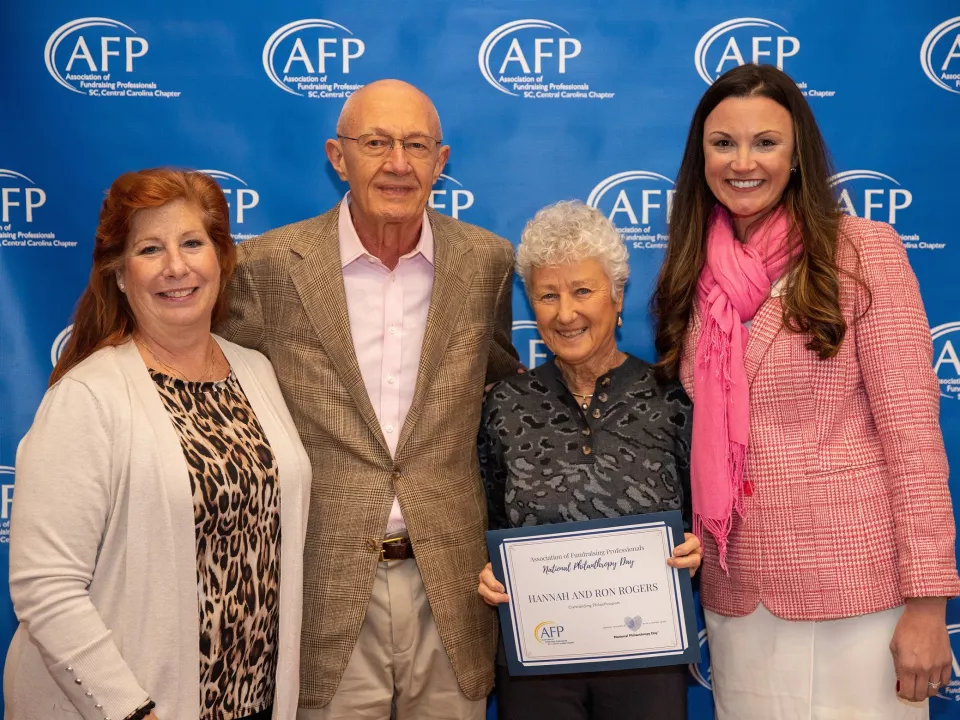 Hannah and Ron Rogers were selected as the 2021 Outstanding Philanthropist at AFP's 31st Annual Celebration of National Philanthropy, Nov. 4, 2021.
Hannah and Ron are long-time United Way donors and were nominated for this honor by Maria Dehart, United Way's Senior Director of Individual Philanthropy.
"Hannah and Ron are the definition of true philanthropists because they give quietly, generously, and regularly because they want to make a difference in our community," said Dehart. "The Rogers have been giving generously to United Way for the last 22 consecutive years. Over the years, Hannah and Ron have personally hosted many United Way events and leadership receptions in their home and in Hannah's beautiful, mesmerizing backyard garden."
The Rogers credit their childhoods and upbringing for their desire to give generously, specifically reflecting on their parent's support to local charities in their community.
"Hannah remembers her Dad being involved in the United Way in Ohio when she was a child and he served on their Board. The spirit of philanthropy was instilled in them as youth and now they feel like it's their turn to give back to their community," said Dehart.
The Rogers' philanthropic efforts extend beyond United Way. To name a few, they have given to Historic Columbia, the Columbia Museum of Art and Prisma Health Children's Hospital. 
"At Prisma Health Children's Hospital, Hannah and Ron Rogers generosity is vast, establishing a rooftop garden for the children and their families taking treatment at the Pediatric Oncology Hematology Clinic located in Children's Hospital," said Dehart. "After losing their son, Kevin to cancer, they wanted to honor and leave a legacy for him. The Kevin Berry Rogers Children's Clinic, where children receive cancer and blood disorder treatments, was named in 2013 in his memory."
The Rogers have devoted their lives to making our community a better place. Their "commitment to strengthening the very fabric of our community from the arts to health care, to preserving history, to supporting health and human service needs through the United Way stand as a testament to their generosity," said Dehart. "Ron and Hannah have always been humble, caring and passionate about their desire to make our community a better place for future generations."
View All Stories