View All Stories
La Ruchala Murphy takes home three second-place ribbons from SC State Fair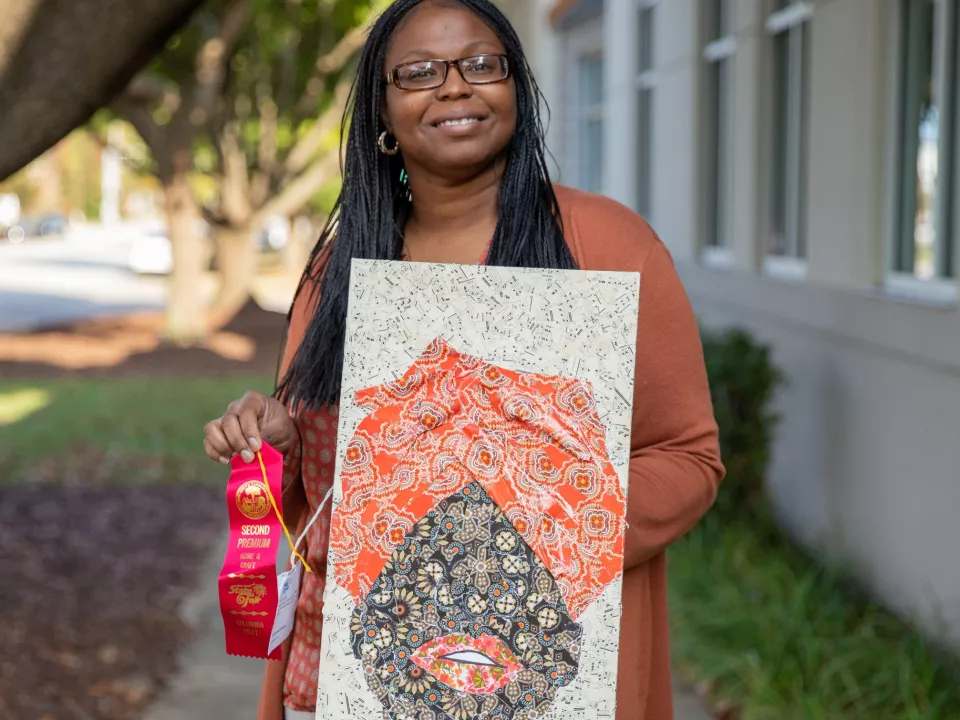 La Ruchala Murphy, United Way of the Midlands' Director of Leadership & Capacity, won three second-place ribbons in the 2021 South Carolina State Fair Home & Craft competition and dedicates one piece to her mother.
Creating these pieces helped her reflect on the recent passing of her mother, as she stayed up until 4:00 AM the night before submissions were due to pour her emotions into three of the five pieces.
Murphy dedicated the 3D acrylic paint drawing to her mother. "I wrote a poem called 'Where I'm From' in February, and I cut pieces of that poem out. It talks about growing up in a rural community and how people never remember my name but would call me by my mom's name. I created that as a piece for her," she said.
At a young age, Murphy immersed herself in art, spending summer days at the Smithsonian American Art Museum in Washington, DC, where her grandmother worked as a security guard. "I never thought about how impactful seeing all of that artwork was until I got older. I went to college and thought, 'Everything that you see in your history book kind of relates to the artwork and music of the same time period.'"
Murphy graduated from Winthrop University with a Bachelor of Fine Arts in Studio Arts and Concentrations in Graphic Design, Photography & Jewelry. She credits her father, who's a self-taught musician, for being her first inspiration to joining the art community. "All of his brothers and sisters either play an instrument or sing, so arts have always been around. But my talent is more so visual arts and theirs is performing."
When asked how her artwork has evolved over the years, she referred to art as a form of therapy. "It's the way that I communicate the best, but I think what has changed is that it's become more personal. It used to be more abstract
or inspirational, but now I use it to communicate how I'm feeling or to express an emotion."
While everything else in her life must be static and in order, she enjoys art because it's the only time she doesn't have to preplan or worry about making mistakes. "It's freestyle."
Join us in congratulating Murphy on earning these ribbons and for sharing her talents with the state of South Carolina.
View All Stories