View All Stories
United Way's Hannah Carnes receives AFP's 2021 Rising Star Award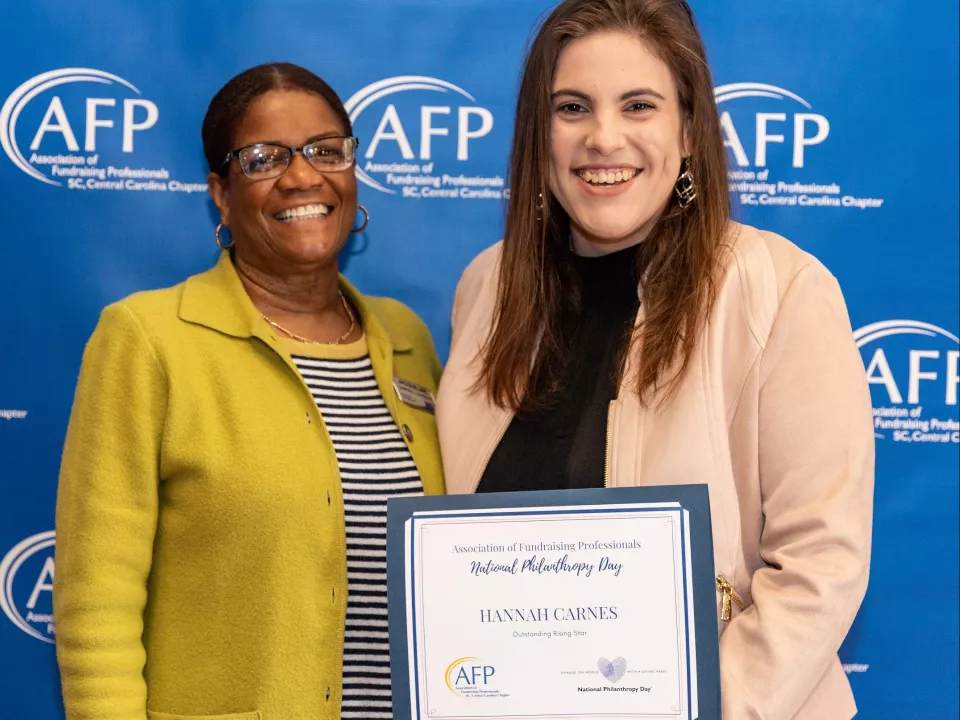 Hannah Carnes, United Way of the Midlands Resource Development Officer, was recognized as the 2021 Rising Star by the Association of Fundraising Professionals, Central South Carolina Chapter at the chapter's 31st Annual Celebration of National Philanthropy Day, Nov. 4, 2021.
"Receiving this award is validation that those around me are taking notice of the effort I put in, and that all of my hard work is being recognized," said Carnes.
Carnes was nominated by Jacqueline Campbell-Lawrence, Senior Director of Resource Development, for her "selfless heart for helping others and serving this community."
When Carnes joined United Way in June of 2020, "She started out managing and providing direction to two fundraising divisions representing more than 50 business in the Midlands," said Campbell-Lawrence. "In her first six months of working with United Way, she showed so much potential and growth, that we almost tripled her goals within her first year."
Carnes' involvement in philanthropy began when she was just a small child. "While I was a student (from elementary school through college), I participated in and led a variety of fundraising efforts for local organizations in my community."
She has channeled her passion for helping her community and investing in the next generation by volunteering as a Girl Scout co-leader for Troops 1219 and 2409 in North Augusta. "This involves mentoring 13 Girl Scouts in grades 6-10 and leading them in badge earning activities, focusing on leadership development, financial literacy, and STEM skills within the troop," said Campbell-Lawrence.
"I'm so thankful to Jacqueline for not only nominating me, but for taking a chance on me a year and half ago when she hired me," Carnes said. "When I came to United Way, I had fundraising experience, but it was in the form of direct marketing, special events and grant writing. She saw something in me that made her say, 'Yes, I want to hire the girl from Hawai'i, and I'm so grateful that she did!"
Since joining the United Way team, Carnes has enhanced and learned new skills: "I've gained new confidence in my public speaking abilities and stepped out of my comfort zone to learn a new type of fundraising and adapt to my new home," said Carnes.
View All Stories